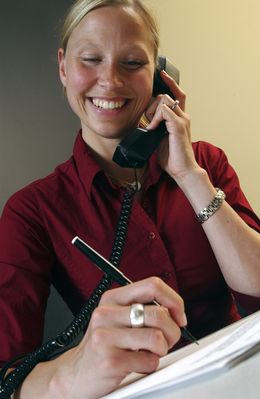 If you want to be successful in today's global economy, you'll need excellent phone skills. The way you handle phone calls tells a lot about your communication skills and professionalism.  Learn 3 steps to taking messages like a pro with this easy-to-follow script from The Telephone in Business and Daily Life.
Fluent English, good communication skills and etiquette will help you land and keep a good job.  On the phone people judge you by the way you sound and by your manners. Practice handling wrong numbers at work and at home with this script.
Most ESL learners find answering the phone a challenging language skill. Learn simple and effective phrases Americans use for answering the phone at home and at work. Improve your speaking skills on the phone. Excellent telephone skills play an important role in international communication.
A few tips for a learner of English looking to develop effective telephone skills. Two things you can say and do to help people remember your name when introducing yourself on the phone.
Conversational English is simple when you know the right thing to say. Imagine your phone rings, and the caller asks for YOU. How do you say it is you?